Grant to us, O Lord, the ability to know that which is worth knowing, to love that which is worth loving, to praise that which pleases you most, to esteem that which is most precious to you, and to dislike what is evil in your eyes. Grant to us true judgment to distinguish these things from that which differs. Above all else, help us to search out and do what is well pleasing to you, through Jesus Christ, our Lord.
Welcome to the Track & Field battlefield!
The Hurricane Track and Field program began in the spring of 1985, during the second year of the high school's existence. It all started with just one male athlete- Kurt Ackermann, one female athlete- Indira Rouw, and one coach- Linda Gudmunson. Daily practices took place on a 300-meter track on the school playground (a former cow pasture), the lines measured out and burned into the grass by Linda and Athletic Director, Jim Geertsma. Why only 300 meters you ask? Because there wasn't room for 400. Kurt and Indira also logged many training miles running up and down Blackburn Road. The team often traveled to meets in style, chauffeured by Indira's mom in her BMW, a.k.a. our team bus. The season concluded with a trip to the State B Championship Meet in Wenatchee, where Indira competed in the long jump and 800-meter run. With a tremendous amount of fortitude and commitment, this pair of athletes established a superb foundation for the Hurricane Track and Field program. Over the past 30 years, hundreds of athletes have continued to contribute to this high standard through their fierce efforts in the pursuit of excellence.
The Hurricane Track & Field Program has been richly blessed with many great coaches and athlete leaders over the past 30 years! Our Leadership History is a list of the many coaches who contributed to the program, athletes who served as Team Captains and athletes who received special recognition awards at our Team Banquet.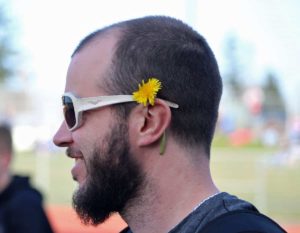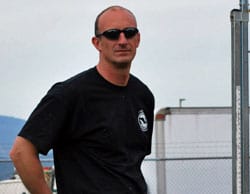 Dr. Robert Schmitt
Volunteer Pole Vault Coach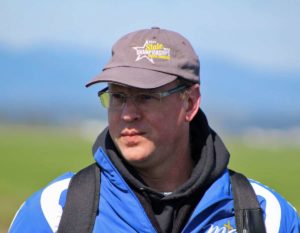 "Track has taught me more about life first-hand than any other thing I've ever undertaken. I learned about the evil of self-pity, the joy of thinking of others above self and about sacrificing for the good of the whole. I learned that you simply need to share your burdens with the Lord and He carries them well. I learned that God has the ultimate power and the final say when it comes to humbling people or glorifying them. All He does is for us; sometimes He asks hard things of us, but only necessary hard things. I learned that when good things are surrendered to the Lord, He adds better things, though they don't always come in the form we expect. The Lord knows no fear, neither should we fear anything but Him. Critics are irrelevant. Grace is amazing. Nothing is outside of the Lord's control, and with Him anything is possible. The Lord asks us to let go of our precious strings of plastic pearls so He can fill our empty palms with diamonds." 
– 2001 Track and Field Warrior